Schnappa Rock Bar and Restaurant is a Tutukaka Coast icon – up there with Dive Tutukaka's blue and yellow boats, the Pacific Rendezvous motel up on the hill – and Sandy Bay's Polar Bear Surf Competition.
Nick Keene and Esther Eves have been at the helm for the past four years.  But it's not easy operating a successful hospitality business in a place like Tutukaka.  The crowds are seasonal with fishing, diving, surfing and holidays bringing the numbers on-season – and the much smaller local community forming the mainstay through the rest of the year.
If the tourist season lasted a full 12 months, anyone could do this, right?  But the challenge is wearing two different hats; giving the visitor population what they want – and also keeping the local community coming back regularly.  This creates a balancing act, as these are two very different markets with different requirements.
So what is the secret to Nick and Esther's success?  Well we reckon it boils down to this:  they are obsessive about three things.  One, their role as great hosts.  Two, their team.  And three, their part in the local community.
The obsession with hospitality is obvious from the moment you walk into Schnappa Rock.  Nick will probably greet you himself and show you to the bar or to a table.  And if Nick isn't there, the crew is impeccably trained and one of them will be right there doing the job with just as much style as Nick.  Nick leads from the front as a host – and he makes sure his relaxed and genuine style permeates through the whole operation.
Nick, Esther and Schnappa Rock are also very much a part of the local community.  If there is an event happening locally, Schnappa Rock will be part of the action whether it's a fundraiser for the local Ngunguru School – or sponsorship of the Polar Bear Surf Competition.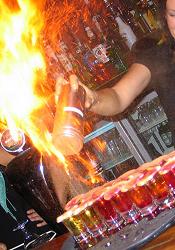 Margins are tight and fixed costs are high in businesses such as these – so keeping a sharp eye on the numbers is essential.  Nick and Esther take a very close interest in the key numbers in their business – but not at the expense of a quality experience for their guests.
We believe that in a business that operates in a seasonal location and which is forced to satisfy two very different target markets, getting the basics absolutely right is even more critical than usua
Nick and Esther enjoy the visitor trade when it's there – but they also maintain their strong local following by never compromising on their role as being great hosts, keeping the whole team at the top of their game – and being a big part of the local community.
You can check Schnappa Rock out online at www.schnapparock.co.nz
You Might Also Enjoy Reading