Respect to Calvin Green for pulling together the "Northern Business Angels", which kicked off last night with a presentation from the granddaddy of American Angel Investor's – Bill Payne.  There are 16 Angel groups around New Zealand – and now Northland has its own, which has got to be good news for local entrepreneurs with scalable innovations that can't yet get the financial backing of a bank.
It is generally assumed (by me, at least) that most of the serious angel investing action occurs in the USA – and that those of us in the more far flung parts of the world are at a disadvantage when it comes to attracting angel investment for our entrepreneurial projects.  But Bill Payne told us last night that's just not true.
Bill ought to know – as an angel investor he has invested in more than 50 companies and founded four angel networks.  He is nearing the end of a six month stint in New Zealand intended to give New Zealand entrepreneurs, investors and universities the benefit of his experience, knowledge and US network.  Bill has recently compared research from angel investing trends in Boston, MA with what happens in New Zealand.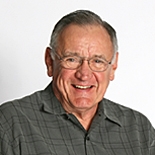 Bill explains that the population of Greater Boston is similar to that of New Zealand – and that the number of deals done there each year is roughly the same, as is the value of those deals.  This is significant as Boston has the most angel investing action in the USA outside of California – and most other parts of the USA see significantly less action.  So here in New Zealand we're right up there with the best of them.
So why is this important to Northland?  Well according to studies by Dr Bob Litan, businesses less than five years old have created 40 million jobs in the US in the past 30 years while companies five years and older have in total lost jobs in the past 30 years.  So it's important for the region that entrepreneurial ventures with high growth potential have the opportunity to pitch for local funds.
Angel investing is a risky business – which is why most investment is made by groups of investors spreading the risks and rewards and decreasing each investor's individual exposure.  Bill gave us some sobering statistics from his own experience:  for every ten investments made by angel groups, five completely lose their capital, four provide only a return of the original capital – and just one investment provides a spectacular enough return to make the entire exercise worthwhile.
Angel investors typically look for in excess of a 20% annualised return on investment on average for their entire portfolio – so the single investment in ten that provides the entire upside must be truly spectacular.  History has shown that this is best achieved by angel investors operating in organised groups rather than as individuals.  And the very good news for the Northland Business Angels is that Bill Payne has agreed to be the Northland organisation's patron.
So what are angel investors looking for?  Here is Bill's answer with a percentage loading for the importance of each:
Management team – with integrity, experience, identified key advisors and key people waiting in the wings – 30%

Size of opportunity – does the opportunity serve a large niche, and is it scaleable?  – 25%

Product & technology – is there a prototype and are potential customers identifiable? – 15%

Sales channels – have these been identified and are they realistic and plausible? – 10%

Competitive advantage – more than just a "first mover" advantage in the space – 10%

Size of this round – is this an appropriately sized investment for this group?  Too small and it may not be worth the effort of due diligence – 5%

Need for more funding – how far will this round get the business? – 5%
If you're a potential angel investor who would like to get involved in an organised group of like-minded people – or if you have an entrepreneurial venture that needs funding – I'd urge you to give Calvin Green a call or to check out the Northland Business Development Trust's new "Northland Business Angels" page right here >>>.
Fraser Hurrell is one of three directors of Elevate CA Limited, Chartered Accountants & Business Advisors in Whangarei, New Zealand.
You Might Also Enjoy Reading