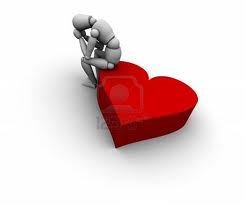 The benefits of a physically active lifestyle are well proven.  No surprises here, right?  We all know that regular aerobic activity reduces the risk of all sorts of chronic disease.
But here's something new that goes one step further than what we already know:
On 26 March 2012, a fascinating piece of medical research was published in the journal "Archives of Internal Medicine". For three years, Australian researchers studied 222,497 participants from the New South Wales' population aged 45 and older. 
That's a serious sample size, which makes up around 11% of the state's population from that age group.
Check the commentary out here >>>.  The results show a strong relationship between sitting time and mortality amongst the 222,497 people studied – even among participants with relatively high levels of physical activity. The association between sitting and mortality remained strong after adjusting for the likes of age, sex, educational level, urban versus rural residence, physical activity, body mass index, smoking, pre-existing conditions and disability. 
This is bad news for many business owners and their crew who spend the majority of their day sitting – in meetings, driving or in front of a computer screen.  The results even sound a warning for those who make a conscious effort to build regular excercise into their routines – but who also spend a large proportion of their working day sitting.
The researchers conclude that reducing total time spent sitting may be at least as important as increasing participation in physical activity.  "To put this in perspective, 30 minutes of physical activity is as protective an exposure as 10 hours of sitting is a harmful one."
Prolonged sitting time is a reality for many of us in today's world, right?  So what's to be done?
Well here's our solution – "The Elevate CA Standing Workstation".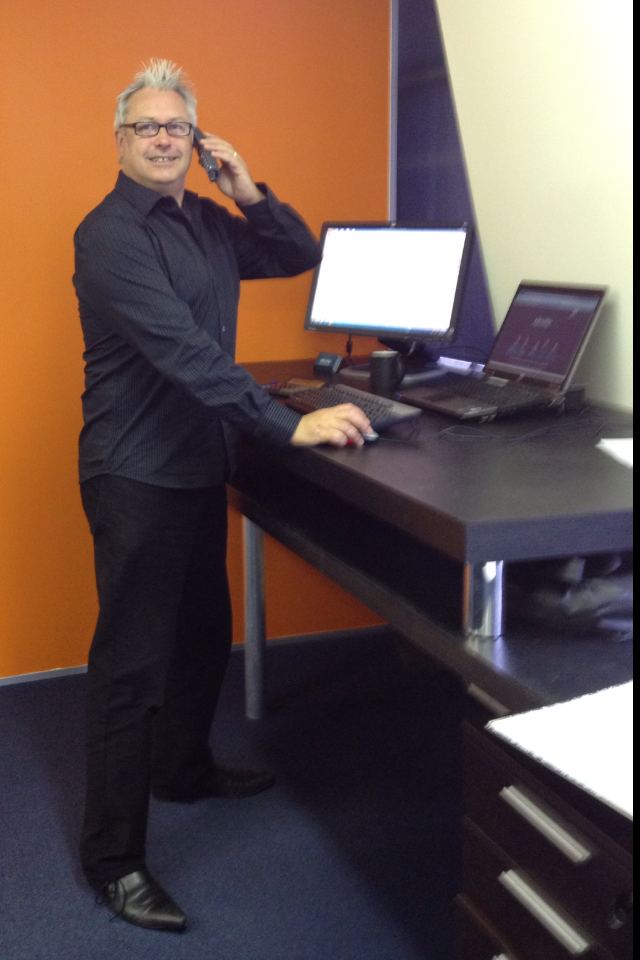 We had a prototype built a month ago now – and I have been using it ever since.  You can see the original desk underneath – and the new 150mm hig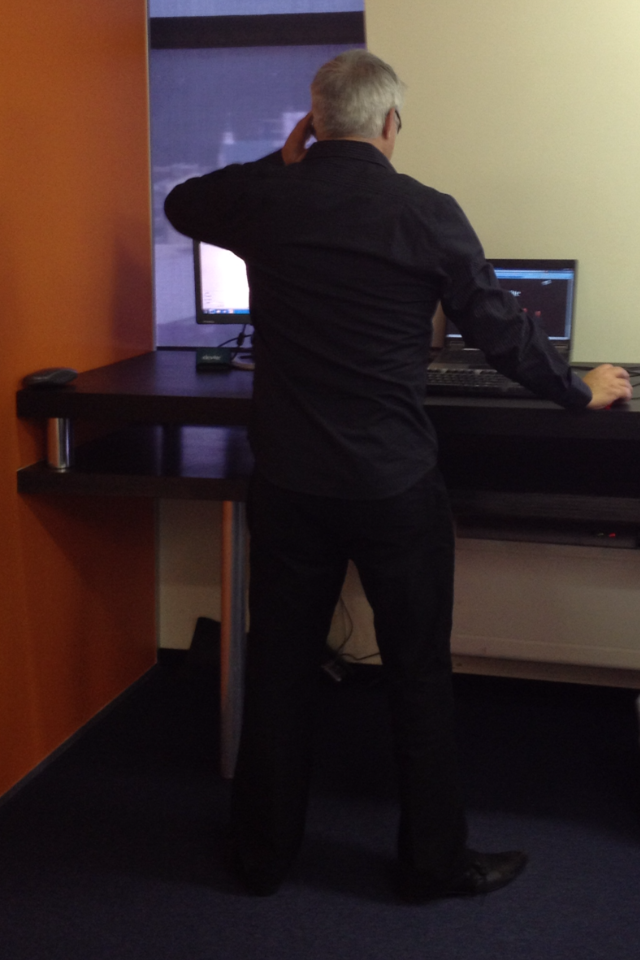 h unit is placed on top, bringing the entire desk to a standing height.
So what is it like standing up all day to work?
Well one month on, it works just fine for me.  For the first couple of days I did go home with sore feet – not that I admitted that to the rest of the Elevate CA team!  But otherwise, standing all day at the desk really does feel good.  It seems to keep the blood flowing and the metabolism up so I'm always focused and alert.  No slouching in the chair, no mid-afternoon yawning – and no looking for an excuse to get up and stretch my legs every hour or so.  And who knows, it might even add a year or two to my life expectancy.
The additional unit can be lifted off at any time if I have a change of heart and decide to go back to a sitting posture at the desk.   But after a  month of standing all day, I know I won't be wheeling the chair back into the office any time soon.
If you'd like to check it out and see how natural it feels to stand at the desk, just stop by and give it a try!
You Might Also Enjoy Reading